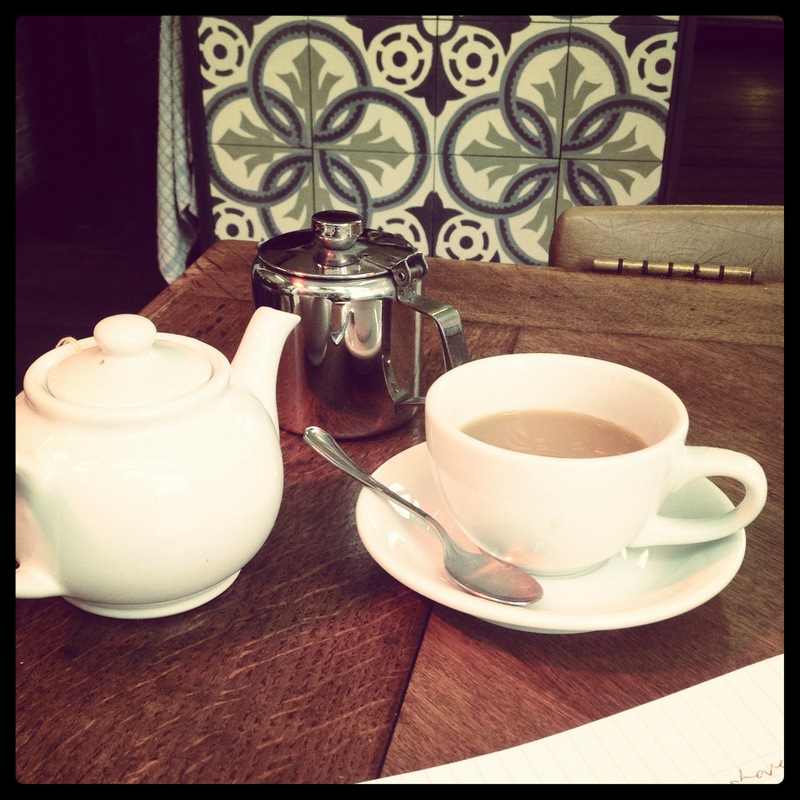 After three years of cafe clarity dates, I love that in most areas of London I can think of an independent cafe in close proximity. Except for Green Park, that place is a wasteland of chain cafes only (especially after 5:30pm)!  As well as fulfilling my love of tea, great food and light inspiring spaces, going to independent cafes also means I'm living by my values – supporting those who are bold and brave enough to bring their own dreams to life.
I believe that if I want people to make a living by doing what they love, then I need to reward those people doing just that.  As much as humanly possible, I want to support the independent shop owners who are having a go at doing something they enjoy. There's no point saying one thing and then blindly turning an eye and doing something else. Which is why I find it hard to merrily fly around the world when I say I care about the environment…
Anyway, that's way too big a jar of worms to open just here, so back to the tea….
I feel that by actively choosing to spend my money as much as possible at independent stores I'm living by my values. I'm aligned, congruent, authentic – pick whatever word works for you.
And when you live by your values you are energised. Life is in flow. Life seems easy and one hell of an enjoyable.
Do you know what your values are? Have you written your important list?
Are you able to find ways to bring them to life through your daily actions?
It's not about letting them be rigid rules that you then use to beat yourself up with when you don't abide by them. It's about being aware of what is important to you and how you can bring it more into your daily life and your everyday actions. It's about being more YOU in your choices and actions and feeling the difference it brings.


Some of my favourite cafes in London:
Just in case you need some inspiration of places to grab a cup of tea, a space to breath, a location to chat, then here are some of my favourite cafes in London. 
Allpress
, Dalston
Ask for Janice
, Farringdon
Caravan
both Kings Cross and Exmouth Market
Counter Cafe
, Hackney
Cream
, Shoreditch
Curled Leaf
, West Hampstead
Dept of Coffee and Social Affairs
, Farringdon
Drink, Shop & Do
, Kings Cross
E5 Bakehouse
, Hackney
Falla and Mocaer
, Camden
Fields Beneath
, Kentish Town
Fingers Crossed
, Hackney
Flotsam & Jetsam
, Wandsworth
Fork Deli
, Bloomsbury
Four Corners Cafe
, Waterloo
Foxcroft and Ginger
, Soho
Ginger and White,
Hampstead and Belsize Park
Granger and Co
in Kings Cross and Clerkenwell
Grind
, Shoreditch
Half Cup
, Bloomsbury
Iris & June
, Victoria
Kahalia
, Brick Lane
Knockbox Coffee
, Holborn
Lantana
 in Shoreditch, Camden and Fitzrovia
Leyas
, Camden
Look Mum No Hands
, Clerkenwell
Love & Scandal
, Waterloo
Monocle
, Marylebone
Oliver's Village Cafe
, Belsize Park
Ozone Coffee,
 Shoreditch
Pedlars General Store and Cafe
, Notting Hill
Prufrock
, Clerkenwell
Saint Espresso
, Angel
Sundays
, Barnsbury
The Attendant
 in Fitzrovia and Shoreditch
The Brill
, Exmouth Market
The Table Cafe,
Southwark
The Wren
, Blackfriars
Timberyard
in Covent Garden and Old Street
Tina, We Salute You
, Dalston Kingsland
Travelling Through Cafe and Bookstore
, Waterloo
Verde and Company
, Spitalfields
Violet
, Hackney
Workshop Coffee
, Clerkenwell