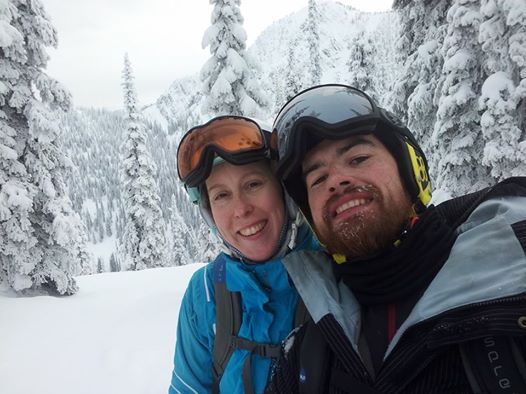 I've lost count of how many times my partner and I have been told that we are "living the dream" over the past few years.
It sometimes is also accompanied by the words "lucky for some" which used to infuriate me, as though what we had worked hard for wasn't acknowledged by other people. It felt as though somehow we were the "lucky" ones and they weren't. It felt as though somehow we didn't deserve it. I felt their jealousy and turned it into guilt.
But now I own the experience and I own our choices.
Now when someone says "you're living the dream" to me I smile and say "yes, yes we are".
We are living a pretty amazing life and it is dream-like. Currently we are spending nine months away from any focused paid employment. We have six months in a small ski town in Canada where we ski, eat, sleep and do what we feel like and then 3 months traveling around catching up with friends and family in different parts of the world and experiencing new places, cultures and ideas.
But the life we are living isn't everyone's dream. Being in -25C weather. Not knowing anyone in our new town. Living in a house surrounded by someone else's furnishings and belongings. Wearing the same clothes week in and week out as we only have a backpack worth of gear. Living in hiking boots and other outdoor clothing. Spending 3 months staying somewhere different every few nights.
But if this is your dream, then start looking at how you can make it happen.
Because it sure as hell is possible. We are living proof.
We aren't anything special. I will admit that I am fortunate in my upbringing, my education, my openness to new experiences, my skills, my ability to save and my financial acumen. But I think most of the people who tell me I am "living the dream" have a lot of the same opportunities open to them too if they choose to do it.  No-one has gifted us money. We haven't won the lottery. Everything we do has been brought about by our own action and choices.  We have decided what we want to do and then have worked our way towards it.
There is no magic wand. No silver bullet. No fast track that gets you or I there any faster. Just a clear vision of where you want to get to and then step after step, action after action to bring it to life.
Do you know what one of my dreams is?
For everyone to be "living their dream".
I would love for people to feel the freedom and expansiveness that comes from waking up each day so excited by what is coming up. I would love for people to feel the joy that comes from doing what they love, and knowing they have created this life. I would love for people to say "you're living your dream and I'm living mine". I would love for people to realise that it is possible and not just something that only other people can enjoy.
So what is your dream?
And how can you start bringing it to life?