It begins with an offhand innocent comment along the lines of "This looks interesting". Then before you know it you are excited about a body punishing event that is going to push yourself mentally and physically.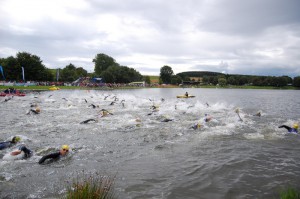 I have decided that I am going to complete a 10km open water swim in 2014.
A 10km swim, often thought of as the swimming equivalent of running a marathon. How did I end up here?
Because crazy people interest me! Because I am slightly crazy myself.
The smiling people of all ages, shapes and sizes swimming in the Serpentine in London all year round (rain, sun, hail and snow) in just their swimsuits intrigues me. I sit there and wonder what it would be like to join them. The kiwi who started swimming after facing the possibility of having her leg amputated and completed the English Channel just four years later. The determination, belief and focus fires me up. The guy who swum the English Channel butterfly, because obviously swimming 32km freestyle just isn't enough of a challenge. Sure this guy is definitely crazy but I somehow find myself wrapped up and inspired by his story.
And before you know it here I am thinking that a 10km swim is definitely do-able. In fact more than do-able I am EXCITED by it. I can't wait to get training. To spend hours with shriveled fingers and sore shoulder blades and that total weariness you get when you finish swimming.
For some reason this has gotten to me.
And when things get to me I know I am onto something. When I can lose myself in training plans for swimming races then I know this is something I want to try out. When I keep finding stories of people getting in the water and pushing their bodies then I think I want to be part of it.
I love finding things that excite me but push my boundaries. I love finding things that relate to my values and help me feel alive.  That is what my list of experiences is all about; making time for new experiences which open new doors, possibilities and opportunities. New experiences which show me how much more I can do. Experiences which feel exciting and scary all at the same time.
What experiences excite you?
How can you look to push boundaries and inspire yourself and others in the process?

I am also excited to have launched my new weekly video series Through the Looking Glass today. And rather aptly the first question in the series is What excites you?. Check out the video, think about what gets you excited and I hope you'll take time to schedule some exciting actions in your life this week.