Experiences have always been important to me; I've always been one to spend money on experiences rather than possessions. I savour people I've met, places I've been, events I've attended and things I've tried. So at the end of 2012 I decided that I would set myself a list of 52 experiences to complete (one a week) for 2013.
So at the end of the year, how did I get on?
I enjoyed having the list as it made me more conscious about how I spend my time.  I made time for things that were new and challenging. I tried things that scared me a little. But most importantly I made time for things that bring me joy and fun. Any time I did something new and exciting I was conscious of doing so, whether on my list or not.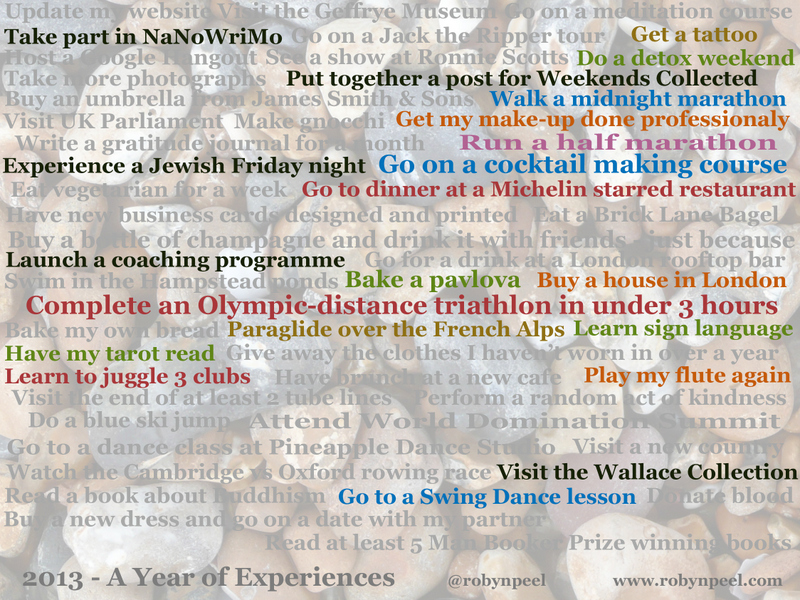 I completed about 60% of the list (all those greyed out ones), but have dozens of other new experiences ticked off too.
From comments I have received from others a list may seem to encourage a tick-box mentality but for me it just helps me focus on doing things that I love. The list is an inspiration not a slave driver. A carrot rather than a stick. It may not work for everyone but it does work for me. So much so I have come up with another 52 new experiences to try in 2014!

This year as I look at the list I get really excited.
I can't wait to get my teeth into some of them. To make time for some meaty goals. To make time for some fun and frivolous experiences. To make time for me and doing what lights me up and gives me energy.
I believe experiences make my life richer and each one helps me learn something, whether about myself or the world as a whole. With each new experience my eyes open up to new ideas and people, new opportunities present themselves and I'm a little changed forever. Experiences help me grow and develop and push boundaries but most importantly, they make me smile and bring me joy.
So are you planning on trying anything new this year? I would love to hear about it.