Today I was doing a sort through my blog and I came across this unpublished blog post on my favourite cafes in London. As I am feeling a little nostalgic for the big city, I thought I'd publish it now. Can't wait to head back to these beauties and try out some new cafes on my return in July 2014.
Over the past year, I have spent a few hours in a different café in London each week. It has been a time for me to spend with my thoughts, to help others get clarity on an issue, to dream and let my mind wander and to experience different spaces. In each café you see different people, hear different sounds, smell different smells and through all of that your brain fires in a different way.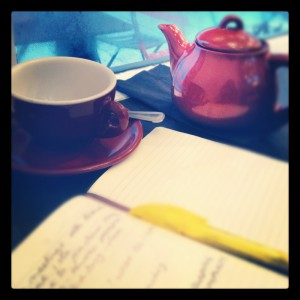 When you go to these places you have different thoughts.
What I also love about these weekly #cafeclarity explorations is that each time I am supporting local businesses – people making a go of doing what they love. I am treated to a different experience in each one. I also often went without technology, so it was just me, my coloured pens, my notebook and my thoughts.
Over the past year I have found some hidden gems and I thought I'd share my top 10 cafés with you (although it has been hard to narrow it down!). In no particular order:
This tiny café with one communal table right next to Kentish Town Overground station really makes you feel as though you are part of the community. It is full of locals on the way to the train, or walking the kids to or from somewhere and it seems as though almost everyone knows the guy who runs it and I loved that. I also loved being able to engage with the staff in their conversations as in such a small place you are very much a part of it. You don't want to take up a precious seat for too long, but the conversations and people will definitely help you think different thoughts while you are there.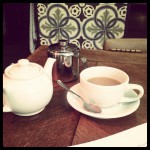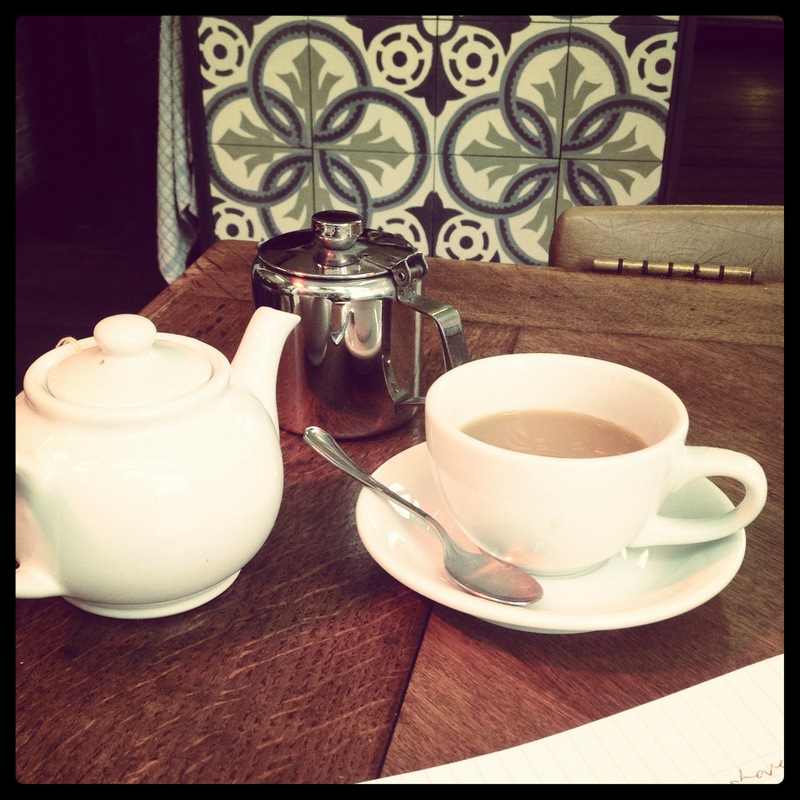 On a beautifully sunny April day as I walked along Old Street I had to wonder why people were squashed into Starbucks and Costa Coffee when less than 100 metres down the street was the perfect table in the sun. Although almost a little too hip for my liking, this café come bike repair place does have the windows and outside space and food and service that I love about independent cafés.  It was the perfect place to Ziggle, watch the world pass me by and do a bit of dreaming.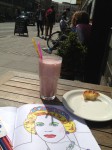 A friend mentioned this café to me in Shoreditch, saying she thought it would be a place I'd enjoy. A non-profit café that also is a second hand book store; she got that right! What is not to love? Big windows. Tasty treats. Friendly staff. A place I would love to spend more time at, if only it was a little closer to where I lived. It would be the perfect place to spend an hour in every week and watch the world pass, read a book and perhaps start writing one too….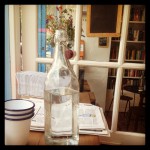 Tucked down an alley in Clerkenwell, I loved sitting outside under hanging baskets and eating the fantastic breakfast. It somehow felt removed from the hustle and bustle of Clerkenwell Road just a few metres away. I am sure it gets busy at times, but on a Wednesday morning it was the perfect little bit of oasis in Farringdon to plant the seed and begin the planning of a coaching programme.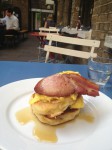 Although it was September, I was blessed with a beautiful day when I went to Scooter Caffe and so I got to enjoy the balcony area covered in plants. There were bees and bikes and plants and it felt a world away from Waterloo Station just down the road. It is a cute and quirky café but a little to dark inside for my liking. But on a sunny day it is perfect outside and I love the idea of heading here for a drink after work when it is dark as I really like the laid-back vibe of the place.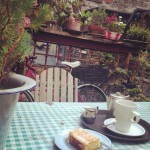 When this fabulous café opened just down the road from where I lived in West Hampstead, I knew I had to support the local business. However, I wish I hadn't found it just before I left, as it would have been the perfect regular oasis for me. Specializing in teas with an all vegetarian menu prepared onsite each day and treatment rooms for acupuncture and yoga you just walk in and feel relaxed. It is a real community café which is laid back and friendly and welcoming. A perfect place to connect to ones self.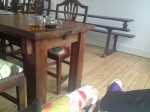 This quirky café (that turns into a cocktail bar at night) caught my heart as soon as I walked through the door. It is kitsch. It is fun. It provides massive pots of tea and large jugs of hot chocolate with mountains of marshmallows. You had me at marshmallows. I have been here a number of times, both by myself and meeting others. Being just around the corner from Kings Cross station is is the perfect meeting place that always feels new and fresh and different. If you haven't been here yet, you really need to go…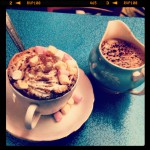 Definitely the biggest café on my top 10 list, this kiwi owned café in Kings Cross is a pure delight. (There is also a smaller version down the road at Exmouth Markets). The service isn't always that onto it first thing in the morning, but for someone like me who just wants to sit and watch the world go by and ponder and think it doesn't really impact on me. However, if you are having a breakfast meeting and you need to get going it can be a bit of a problem (but one I am always willing to overlook for the fabulous breakfasts they produce!). If heading there later in the day then you have to try their morning buns – so, so scrummy.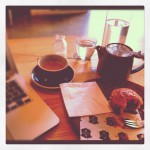 This cute little café in Bloomsbury caught my eye as I cycled past one day. Its large windows, big selection of baked goods, outside tables and open feel looked like "me". And it was indeed. The fresh mint tea was lovely and I was able to lose myself for ages watching the world pass by me through the big windows.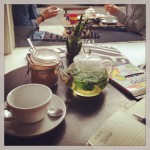 Although never an official #cafeclarity destination this is one of my favorite places in London on a weekday afternoon in summer. Situated above Queen Elizabeth Theatre on the Southbank you can get the free wifi from the Southbank Centre, be surrounded by trees and garden and sit outside with your fresh lemonade and listen to the kids running through the fountain below screaming. Can't think of a better place to work!