Passports – second drawer of the dresser in the spare room
Ski jacket, puffer jacket and rain coat – on hooks by the front door
Pens and coloured felts  – in glass on kitchen bench
Kindle – beside bed
Everything in its place, and a place for everything.
Three days after moving into our new home and everything has a place. I know where to locate each of my possessions.  Three days and I am "settled". Three days and I am happy to call this 2-bedroom flat in a small town in the Rockies, Canada home. Home for the next six months anyway.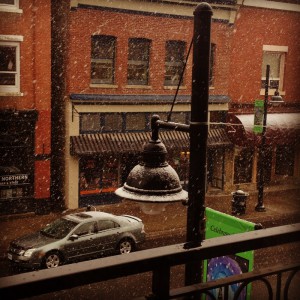 For someone who loves adventure and new experiences, I also love to have a place to return home to. It may be my Taurean traits coming through or it may just be that I am a stickler for order (yes, I do love a good spreadsheet and my love of lists is known to many).
So there have been many times where I have felt the conflict of freedom and nesting. The pull of constant adventure and new experiences with the need to feel comfortable and homely surrounded by familiar things that are part of my story and make me smile. I know people who love their homes and have lived in the same house for more than 10 years and can't imagine moving from place to place. I know people who love travel and adventure and the idea of "settling down" is enough to put tremors down their spine. But for me I want both and I am starting to find a way to welcome both in my life.
I have started to realise that they are not mutually exclusive ideas and one is not necessarily better than the other. What I used to see as two conflicting ideals I am now coming to realise are two sides of the same coin.
It is possible to create a life that works for you.
No matter what potentially conflicting ideals you think you have, there will be a way to make it work for you. And it only needs to work for you, not anyone else.
So, what is important to you? What are your quirks that need to be met in order for you to feel comfortable?  What can you do to have potentially conflicting ideals work in harmony? 
There is a way to live a life that works for you. It may take time and energy and a bit of trial and error, but it is worth the time to work it out so you can live a life that meets all your needs.
We have one life, so make it count.