I am a child at heart.
I see a puddle and I immediately want to jump in it – both feet at once. I see a small hill and I want to do a rollie pollie down it. I clap my hands and jump for joy when something excites me. At the age of 36 the word "play" still means something to me. In fact a couple of weeks ago I even went and bought paint and did some finger painting one Friday evening (as you do!).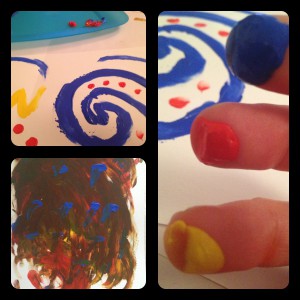 It turns out that no matter what your age, mixing all the colours together still turns out like poo brown. 
But that isn't the point of the blog. The point (or so I think) is that so many adults seem to have lost the ability to play.
As adults we are missing playfulness in our everyday lives.
Now I don't just mean taking the time to get your fingers dirty or rolling down hills or jumping in puddles. Although all those things do allow your creative juices to get flowing and to just let go. I'm talking about the actual ATTITUDE that comes with playing. Of looking at the world with wonder and delight. At not knowing the consequences of something but just trying anyway. Not caring if you are good at something or not, but just giving it a go. Taking each moment as though it is the first and delighting in the experience of it all.
But I haven't always let my playfulness come out. 
Just over three years ago I left my job and took six months off to work out what my next step in work was going to be. Just as I was starting the 6 months a dear friend named it my "playing" time, and boy did that change my attitude to the experience. It all of a sudden became lighter and more enjoyable. I wasn't just sitting around working out what next. I wasn't just being a lady who lunched and watching time pass. I was getting out there and exploring and trying things out and playing! I could just do whatever came my way and it didn't matter if it was the "right" choice, or whether it would help my future "career", or whether it would pay me or not. I just did it and enjoyed the experience.
The whole playing experience opened up my eyes to a lighter way to experience life.
And I have been playing ever since. 
What I love about the experience of play is there are no rules –  or you can just make up the rules as you go along. There isn't a "right" way to experience play either.
Allowing the childlike wonder to take over your being, to look at the world as something to play and enjoy and get dirty in is a hugely freeing experience. Life becomes enjoyable. It is a place full of opportunities and experiences abound.
So what can you have a go at playing at today?
How do you want to get your hands dirty?
What part of your day can you view with childlike awe and wonder?
Take the time to play in the next week and let me know how you get on.