With the number of downcast faces I see on public transport and the streets of London it would seem that fun isn't a big part of people's days. The delight of simple pleasures, of letting go, of playing and enjoying life seems to have been forgotten for many. But I'm on a crusade to bring it back!
I want to remind people how life is fun and enjoyable. To help people delight in simple pleasures, to make time for activities that have absolutely no purpose except it will be FUN!
Arty Fun
I've partnered with my good friend, beautiful soul, fellow kiwi and founder of Ziggle It, Tania Bearsley, to bring you fun, laughter, colouring in, creativity, bubbles and glitter all in one event. (But really, it is all about the glitter.)
Arty Fun is about shedding the stress of the day with two hours of play.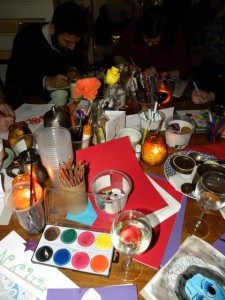 We hold monthly events (whenever possible at the fabulous Drink, Shop & Do in Kings Cross) where the focus is on laughter, fun and creativity. There are paints, coloured pencils, paper, glitter, colouring in books, googly eyes, stickers and you there with your imagination.
Make time for fun and enjoyment in your life and join us for our next Arty Fun date.
Play Dates
Each month I invite people to join me for a few hours of play on a Sunday. It might be a walk in the park, ice skating, an exhibition at an art gallery, a treasure hunt, an afternoon of board games or something else entirely! It's just a simple way to let go and get ready for the week ahead. Keep an eye on my events page for upcoming dates or sign up to my newsletter to find out what else I might have up my sleeve!